Selladoor Productions, Matthew Townshend Productions, Belgrade Theatre Coventry and Perth Theatre at Horsecross Arts present
Mary Shelley's
FRANKENSTEIN
Adapted for the stage by Rona Munro

King's Theatre Edinburgh 
Monday 21st to 26th October 2019
A new theatrical adaptation of Mary Shelley's seminal 1818 gothic horror novel Frankenstein is set to depict Shelley onstage, as she unfolds her monstrous tale of creature and creator. Adapted by award-winning writer Rona Munro and co-produced by leading company Selladoor (in the company's tenth anniversary year), Matthew Townshend Productions, Belgrade Theatre Coventry, and Perth Theatre at Horsecross Arts, the production will tour nationwide from 2 September – 30 November 2019. Further dates and casting are yet to be announced.
A national press night will be held at the Belgrade Theatre Coventry on Thursday 3 October at 7pm.
An eighteen year-old girl, Mary Shelley, dreams up a monster whose tragic story will capture the imaginations of generations to come.
A young scientist by the name of Frankenstein breathes life into a gruesome body. Banished into an indifferent world, Frankenstein's creature desperately seeks out his true identity, but the agony of rejection and a broken promise push him into darkness. Dangerous and vengeful, the creature threatens to obliterate Frankenstein and everyone he loves, in a ferocious and bloodthirsty hunt for his maker.
Rona Munro's brilliant new adaptation of Mary Shelley's Gothic masterpiece places the writer herself amongst the action as she wrestles with her creation and with the stark realities facing revolutionary young women, then and now.
Rona Munro said of the new production: "This story has been told and retold in hundreds of different versions since it was first written. But it remains the dark and rebellious roar of its adolescent author. Mary Shelley was only eighteen when she wrote the novel and she'd already broken every social rule that should have shaped her life. That's the version of Frankenstein I've returned to, the version of the novel. The story is told in the voice of that defiant and passionate young girl accusing her elders, the culture of her age and intent on terrifying the whole world."
Anna Fox, Head of New Work at Selladoor Creation, said: "Selladoor Creation are delighted to be working with Rona to create a dramatic reinvention of this classic story. We relish the work we do with writers, so we are proud to be a part of a production that will examine the writers' process in such an innovative way. It has been a fascinating journey to go on with the piece, and we are excited for this bold new take on a beloved gothic horror to be brought to life for audiences of today."
The production will be directed by Patricia Benecke, with composition and sound design by Simon Slater, lighting design by Grant Anderson and designed by Becky Minto.
Rona Munro has written extensively for stage, radio, film and television. Her recent theatre credits include stage adaptations of Lucy Barton, from the novel by Elizabeth Strout and Captain Corelli's Mandolin, from the novel by Louis de Berniéres. Other credits include The James Plays: a trilogy of award-winning plays produced by the National Theatre of Scotland, the National Theatre UK and Edinburgh International Festival, Scuttlers (Royal Exchange Theatre, Manchester), Little Eagles (Royal Shakespeare Company) and Iron (Traverse Theatre, Royal Court Theatre) for which she won the John Whiting Award in 2003.
Her television credits include the BAFTA-nominated Bumping the Odds (BBC Scotland) and Rehab (BBC Two), and her films include Ladybird Ladybird and Oranges and Sunshine. Her work for radio includes several dramas for The Stanley Baxter Playhouse. Rona is the only writer so far to have contributed episodes to both the classic and contemporary series of Doctor Who (BBC One).
Director Patricia Benecke directs in the UK and Europe. For her company Dialogue, she has directed Scorched (Old Vic Tunnels), The Furies/Land of the Dead/Helter Skelter (Bush Theatre and UK tour),Monsieur Ibrahim and the Flowers of the Qu'ran (Bush Theatre, Assembly Rooms and UK Tour), Wedding Day at the Cro-Magnons (Soho Theatre), Top Dogs (Southwark Playhouse and UK Tour), Merlin (Riverside Studios), Heroes Like Us (Edinburgh Festival/NXT) and The MC of a Striptease Act Doesn't Give Up (international tour). Patricia is Creative Associate at Belgrade Theatre Coventry, where her shows include Cougar the Musical and Nora. Patricia also directed Stop Blaming, Start Loving for the Old Vic's 24 Hour Plays Gala.
Designer Becky Minto has designed over 100 productions for companies including National Theatre Scotland, The Royal Lyceum, Grid Iron, Perth Rep, Visible Fictions, Vanishing Point, Scottish Dance Theatre, Lung Ha, All Or Nothing, 7:84, The Byre, The Citizen's Theatre, Upswing Aerial Theatre Company, Fire Exit, Walk The Plank, Mark Murphy, Dundee Rep and Pitlochry Festival Theatre. She was awarded the Silver medal for Space Design for the National Theatre Scotland's production of The 306:Dawn at the World Stage Design exhibition in 2017. She has been nominated for 3 CATS awards and a Manchester Evening News Award for Best Design.
Simon Slater is an Olivier Award-nominated composer, and has composed original music for over 300 theatre, film, television and radio productions. His recent theatre credits include: Amadeus (National Theatre), Killology (Sherman Theatre/Royal Court Theatre) and Constellations (Duke of York's Theatre, Royal Court Theatre) for which he was nominated for an Olivier Award, Cost of Living (Hampstead Theatre), Build a Rocket, Thirty Nine Steps, The Rise and Fall of Little Voice (Stephen Joseph Theatre), Foxfinder (The Ambassadors Theatre), The Crucible (Storyhouse), The Rivals (The Watermill Theatre), King Lear (The Globe Theatre), Sand In The Sandwiches (UK Tour), Carmen Disruption(Almeida), The Cherry Orchard, Doll's House (Sherman Theatre), Talking Heads (UK Tour) and Tis Pity She's A Whore, The Broken Heart & A Winter's Tale (Sam Wanamaker Playhouse).
Grant Anderson's lighting design credits include: The Broons (Selladoor), Miss Julie (Horsecross Arts), We'll Live And Die In These Towns (Belgrade Theatre). Currently he is designing shows for The National Theatre of Scotland as well as internationally for Unigram in Miami. Other selected credits include: Alan Cumming Sings Sappy Songs, Light on the Shore (Edinburgh International Festival), Cuttin' A Rug, Simon's Magical Christmas Socks, Panic Patterns (Citizens Theatre), One Mississippi, Submarine Time Machine, To Begin (National Theatre of Scotland & NTS Learn), Snow Queen, A Christmas Carol, Love Song, In My Father's Words, Hecuba, Promises Promises and Baby Baby (Dundee
Book your tickets here: https://www.capitaltheatres.com/whats-on/frankenstein
Whats On at Capital Theatres
Scottish Opera: The Magic Flute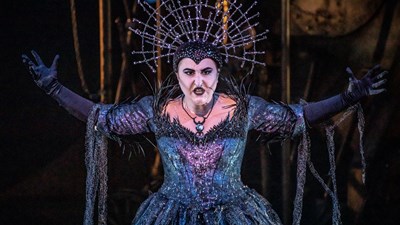 WED 05 JUN TO SAT 15 JUN 2019
Shows only: Wed 5, Sun 9, Tue 11, Thu 13 & Sat 15 June 2019 Evenings 7.15pm , Matinee Sun 3pm
Running time (approx.): 3 hours
FESTIVAL THEATRE
BOX OFFICE: 0131 529 6000
Curious Shoes
THU 06 JUN TO SAT 08 JUN 2019
Thu 10.30am & Fri 2pm, Sat 10.30am & 2pm
Running time (approx.): 1 hour
THE STUDIO
BOX OFFICE: 0131 529 6000
Cross Currents
THU 06 JUN 2019
Evening 7.30pm, Matinee 2pm
KING'S THEATRE
BOX OFFICE: 0131 529 6000