25 LIVE: THE BIG BIRTHDAY SHOW – SATURDAY 1 JUNE 2019, 7PM
Review by Moira Cormack
The 25 year celebration at the the Festival Theatre was a Showcase highlighting how everyone is creative. There were performances from a wide range of people who perform and are part of the life of the theatre from Plirig Park School to the afternoon tea dances for people living with dementia. There were some beautiful and tender vignettes from the Braidburn School where the children performed to a song by Lewis Mullens, All along the Pines. We also enjoyed the tap dancing teacher, Marie Duffy, and the sheer joy on the face of her young pupil. There were stunning dance performances by Breaking Ranks choreographied by the amazing Ashley Jacks, and the Ihayami Youth Collective.The front of house staff also did a performance that my friend and I most enjoyed with mirrors showing how life and art are linked.Altogether it was an intimate evening of celebration of the diversity of life and how it all comes together at the theatre and in our creativity.I felt honoured to be part of it.
Overview
To mark the silver anniversary of the Festival Theatre, we proudly present a packed variety show celebrating our creative projects, people and partnerships. We will be sharing some of the work we have produced in the last year as well as premiering brand-new works commissioned for 25 Live in a truly festive jamboree of dance, music, film and song.
Hosted by Jamie MacDougall (BBC Proms in the Park, BBC Scottish Symphony Orchestra) and Saskia Ashdown (BBC, Red Productions, The Attic Collective), premieres in 25 Live will include a new work from Dance Ihayami and WHALE Arts, celebrating 25 years of the Festival Theatre and 50 years of Wester Hailes and Spinning Songs, an inter-generational singing and song-writing project produced in collaboration with Scottish Opera working with Edinburgh schools and community groups.
As well as new work, we'll be revisiting some of our most recent creative collaborations, sharing films we have made with LBGT Youth Scotland and An Audience With…Janice Parker Projects and performance we helped make possible including work by Janis Claxton and Rosie Kay Dance Company.
Jamie MacDougall has established himself as one of the country's most versatile singers and performers. Since 2001 Jamie has been the nation's voice of classical music for BBC Radio Scotland, and in 2003 he made his first television appearance when he presented and sang at the BBC Proms in the Park from his native Glasgow.
Jamie's recent appearances include touring his highly acclaimed one-man tribute show on Kenneth McKellar, the Messiah at the Royal Albert Hall with the Royal Choral Society, and song recitals in Scotland with Malcolm Martineau and Fali Pavri. He appears regularly at home with the BBC Scottish Symphony Orchestra and is in demand around the world: this year he has performed Mendelssohn's Lobgesang in Seoul and given a series of recitals in Mexico with Mexican concert harpist Angel Padilla and Scottish guitarist Matthew McAllister.
Saskia Ashdown is aScottish actor and musician based in Edinburgh. She is currently filming as Orla in the BBC/Red Productions' second series of Trust Me, and developing the Twelve Twelve Theatre Company, which she co-founded to support new writing for theatre.
Her recent credits include: DS Sarah Cullen in Clique for BBC, How to Be Both development with the Lyceum Edinburgh and the International Book Festival, Tron Theatre Table Read 2: Bury Me, Horizontal Collaboration by David Leddy/Fire Exit.
Saskia worked with Capital Theatres in 2016/17 performing in War in America, Lysistrata and The Threepenny Opera as part of The Attic Collective.
The Festival Theatre plays a vital role in the cultural and creative life of our capital city. Opened in 1994 on the site of the former Empire Theatre, retaining its 1928 auditorium but expanding its footprint front and back of house and establishing the dramatic glass facade, the building has truly fulfilled its ambition to become a national asset. Home to opera, dance, comedy, live music and event theatre and a vital hub during the Edinburgh Festivals, the Festival Theatre also provides the largest stage in Scotland.Duncan Hendry, Chief Executive at Capital Theatres says: 'As we opened on 18 June 1994 with a gala variety performance that paid tribute to the many theatre venues, circuses and performance halls that had previously stood at 18-22 Nicolson Street, it seemed only fitting that we mark our silver anniversary with a variety show that celebrates creative collaboration
Thank you for the opportunity to review the show.
Whats On at Capital Theatres
SCOTTISH OPERA: THE MAGIC FLUTE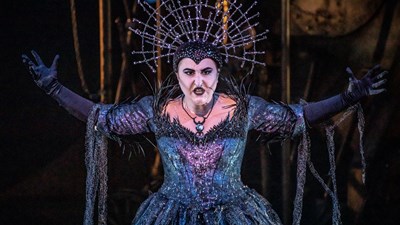 WED 05 JUN TO SAT 15 JUN 2019
Shows only: Wed 5, Sun 9, Tue 11, Thu 13 & Sat 15 June 2019 Evenings 7.15pm , Matinee Sun 3pm
Running time (approx.): 3 hours
FESTIVAL THEATRE
BOX OFFICE: 0131 529 6000
CURIOUS SHOES
THU 06 JUN TO SAT 08 JUN 2019
Thu 10.30am & Fri 2pm, Sat 10.30am & 2pm
Running time (approx.): 1 hour
THE STUDIO
BOX OFFICE: 0131 529 6000
CROSS CURRENTS
THU 06 JUN 2019
Evening 7.30pm, Matinee 2pm
KING'S THEATRE
BOX OFFICE: 0131 529 6000