❤️Welcome
Today on my month-long Romantic Novelists Association feature. Each day in February I will have a different author on the blog, talking to me about their books. It is to help celebrate the sixtieth birthday of the RNA and to raise awareness of how it might be a great fit for you if you are an author. I hope you enjoy the features over the next few weeks. Be sure to give the authors a follow on social media and add the books you fancy from the selection of great authors to your own TBR.
❤️Romantic Novelists Association
The Romantic Novelists' Association was founded in 1960 to both celebrate, and demand respect for, romantic fiction. Founder members included Denise Robins, Barbara Cartland, Elizabeth Goudge, Netta Muskett, Catherine Cookson and Rosamunde Pilcher. The first President of the Association, Denise Robins, noted that although romantic fiction gave great pleasure to many readers, the writers almost felt they had to apologise for what they did. The RNA was going to put a stop to those apologies and, instead, celebrate and promote romantic authorship.
Since 1960 has RNA has awarded prizes to the best in romantic fiction, and has nurtured new writing through the New Writers' Scheme.
In 1966, an early Vice President of the association, Elizabeth Goudge, commented that 'As this world becomes increasingly ugly, callous and materialistic it needs to be reminded that the old fairy stories are rooted in truth, that imagination is of value, that happy endings do, in fact, occur, and that the blue spring mist that makes and ugly street look beautiful is just as real a thing as the street itself.'
Today, the RNA continues to support and champion the authorship of romantic fiction that shows the value of imagination and the possibility of a happy ending and also celebrates the broader spectrum of romantic fiction that explores the more challenging aspects of relationships and human experience.
Website: https://romanticnovelistsassociation.org/
Twitter: https://twitter.com/RNAtweets
Facebook: https://www.facebook.com/Romantic.Novelists.Association/
❤️Rhoda Baxter/ Jeevani Charika
Rhoda writes contemporary romances about smart women and the men who love them – no alpha males here, thanks. She especially likes it when they make her laugh. She is fond of cake, British comedy and Lego Stormtroopers.
Rhoda is a member of the UK Romantic Novelists' Association and the Society of Authors. Her books have been shortlisted for the RoNA awards (2017), the Love Stories awards (2015) and the Joan Hessayon award (2013).
You can find Rhoda wittering on about science, cake and comedy on her website – http://www.rhodabaxter.com. You can contact her via Twitter (@rhodabaxter), Facebook or just drop her an email at rhodabaxter@gmail.com.
❤️ A Convenient Marriage
It was the perfect marriage… until they fell in love.
Chaya is a young woman torn between her duty to family and her life in the UK. While her traditional Sri Lankan parents want her to settle down into marriage, what they don't know is that Chaya has turned away the one true love of her life, Noah, terrified of their disapproval.
Gimhana is hiding his sexuality from his family. It's easy enough to pretend he's straight when he lives half a world away in the UK. But it's getting harder and harder to turn down the potential brides his parents keep finding
for him.
When Chaya and Gimhana meet, a marriage of convenience seems like the perfect solution to their problems. Together they have everything – friendship, stability and their parents' approval. But when both Chaya and Gimhana find themselves falling in love outside of their marriage, they're left with an impossible decision – risk everything they've built together, or finally follow
their heart?
Will they choose love, or carry on living a lie?
An emotional, page turning read about love, family and the secrets we keep, for fans of Amanda Prowse, Ayisha Malik and Susan Lewis.
❤️Feature
Can you tell us a little about your publishing journey, please?
Funnily enough, even though A Convenient Marriage is my twelfth book, it was the first book I wrote, so my writing journey is inextricably linked with it.
A Convenient Marriage is a women's fiction book featuring two British-Asian protagonists. I started writing it in 2002 and started sending it out to agents in 2006 (by post, because that's how you did it in the olden days). After getting a handful of 'nice' rejections – you know, the sort where they scribble a note on the edge of the rejection slip saying 'close, but not quite' – I thought I needed a manuscript critique. That's what brought me to the RNA. I joined the New Writers Scheme and sent in my manuscript. I got a report back that told me where it was weak and, crucially, where it was strong.
The report also said something along the lines of 'you've got a rom com voice that you're trying to stifle. Try writing something for fun.' So the following year, I did exactly that … and I had a ton of fun writing it. The fact that I was having fun shows up in the writing, I think. My second book also went through the New Writers' Scheme. A year or so later, book 2 (now called Girl On The Run) was published by a small publisher, under the pen name Rhoda Baxter.
I have written nine rom coms as Rhoda Baxter now and I don't think I could ever stop writing books that make me giggle. But what of that first book … I kept going back to it and tweaking it. I wrote a second women's fiction book with Sri Lankan protagonists in it and started sending it out on submission. Eventually, it found me an agent and then a publishers. Hera book offered me a two book deal and A Convenient Marriage was the second book.
So my first book was published seventeen years after I started writing it. This book is very special to me and hearing from people who have read it and felt like they'd been seen for the time makes me sooo happy.
Can you tell us how you became involved with the Romantic Novelists Association and what it means for you to be part of it?
I answered the first bit in question one, so I'll focus on what it means for me to be a part of the RNA.
First of all, it's the one place where you can say stuff like 'I can't get my people to stop talking and kiss' and people don't give you weird looks.
When I first joined, it was as though I'd suddenly opened a door into a different world. People talked about the book industry as a business, rather than this mythical land it seems from the outside. I learned a huge amount about how publishing worked, just by reading forums.
Eventually, I plucked up the courage to go to and event and meet a few people. I now go to the RNA conference every year and I've become really close friends with some of the people I met there. I met the ladies of the Naughty Kitchen at a conference. They are my support network, my sounding board and late night chocolate eating (and wine drinking) buddies. I don't know what I'd do without them!
Joining the RNA was probably the single most important thing I did for my writing career (apart from writing the books, obviously!).
What was the inspiration behind your latest release?
A long time ago, a friend of mine found a man crying on a park bench. When she asked if she could help him, he said he'd appreciate a listening ear. So she sat next to him and listened while he told her about how he was in love with another man, but couldn't be with him because he didn't want to lose his wife and kids.
Around the same time, I was wishing I could see more people like me in fiction. I'm South Asian and the only brown people I saw in books were either stereotypes or, in literary fiction, focussed on them being extreme or exotic.
So I decided to write a commercial genre fiction book about two people who knew they could never fall in love with each other, but got married to keep their families happy. Gimhana and Chaya showed up in my head and eventually, I worked out their story. When I first wrote A Convenient Marriage (back in 2002), the world was a different place – for example, civil partnerships wouldn't come into law until 2004. When I went back to edit it, a decade or so later, I discovered that nowadays there are websites dedicated to helping people find these marriages of convenience. Times have changed, but the challenges people face haven't.
Do you find it hard to let your characters go when you finish writing the book?
I don't think I ever fully let them go! In my romcoms, sometimes characters from old books pop into later books for cameos. Those are so much fun to write because it's like I'm meeting old friends for a catch up. You can read all my books as standalone stories, but if you've read more than one, you might recognise some people or places in the background. They're easter eggs for fans, if you like.
What was your favourite read of 2019?
Aaargh, this is such a hard question to answer! I'm going to go with The Glittering Hour by Iona Grey. It's beautifully written and very moving. I was a weepy mess at the end (but in a good way).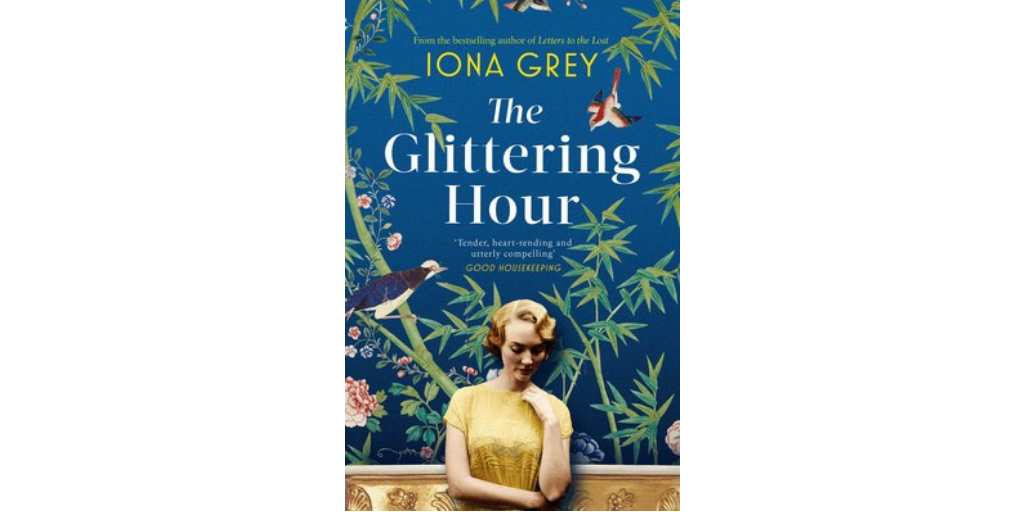 Do you read other romance authors and who would you recommend?
I try to read as much romance as I can! I tend to like books with nice guy heroes (or even better, nerdy ones. I love a man in glasses!). If they make me laugh, so much the better! I recommend Jane Lovering, Kate Johnson, Jackie Lau, Mina V Esguerra and Mary Jayne Baker.
Was there a point in your life that a book helped you get through, if so which one?
I suffered from post natal depression with each of my two kids. In those times, I found re-reading Terry Pratchett's Discworld books was a huge comfort. I knew the stories and the characters so it felt like I was being welcomed back into a familiar world. Also, if you read the Discworld series in order of publication, you see Sir Terry's writing improve with each book, which gave me hope that one day, if I keep practising, I might get to that good too!
Is there anyone that you would like to mention and thank for their support of your writing?
Goodness, there are so many people! For this book, I'd love to thank my agent, Federica Leonardis, and my editor from Hera Books, Keshini Naidoo for giving A Convenient Marriage a chance to come out into the world.
If you had the power to give everyone in the world one book, what would it be and why?
I don't think there's one book that would appeal to everyone. The book that I've found helped me most recently is Burnout by Emily and Amelia Nagoski. It really helped me under my anxiety issues and gave me some tools that have helped me. I think the world is an anxious place right now, and people might find it a useful book to have.
What are you working on now?
It's the start of the year, so I'm planning a new book. It's about two people who play computer game walkthroughs on YouTube. It will be a Rhoda Baxter rom com. I have another Jeevani Charika book brewing at the back on my mind too.
Lastly, do you have any questions for your readers?
I think that books should be mirrors as well as windows. With that in mind, is there something you are hoping to see represented in books in the new decade (scenarios, settings, lifestyles, or anything, really)?
❤️ Buy Link
❤️Follow the Tour
❤️ Connect with Me
Here is a handy link tree with all my social media. Why not follow me on Twitter, Goodreads and Instagram.
❤️Final Thoughts
Thank you to Rhoda for taking part in my special feature.
Happy reading,
Kelly xx
In the name of full transparency, please be aware that this blog
contains affiliate links and any purchases made through such links will result in a small commission for us (at no extra cost for you).