Small Island
2nd July, 2019
Festival Theatre, Edinburgh
Overview
Andrea Levy's Orange Prize-winning novel Small Island comes to life in an epic new theatre adaptation. Experience the play in cinemas, filmed live on stage as part of National Theatre Live's 10th birthday.
Small Island embarks on a journey from Jamaica to Britain, through the Second World War to 1948 – the year the HMT Empire Windrush docked at Tilbury.
The play follows three intricately connected stories. Hortense yearns for a new life away from rural Jamaica, Gilbert dreams of becoming a lawyer, and Queenie longs to escape her Lincolnshire roots. Hope and humanity meet stubborn reality as the play traces the tangled history of Jamaica and the UK.
A company of 40 actors take to the stage of the National Theatre in this timely and moving story.
Theatre Review by Kelly Lacey
 Helen Edmundson's stage adaptation of Andrea Levy's novel Small Island is both deeply moving and terrifying at the same time. Set before, during and after World War II it brings to life a whole host of memorable characters.
As Hortense, Queenie, Michael and Gilbert take the stage we learn of their yearning for a better life. Both in Jamaica and England they are all looking to move on to new better pastures. But is the grass always greener on the other side?
Andrea Levy's characters are so strong with particular details and the cast brought them to life superbly. Extra special mention to David Fielder as Bernard's war traumatised father. I was heart sore from his brilliant performance.
Although the book by Andrea Levy was written in 2004 and it is about the period of the 1940's. It was terrifying to realise the similarities of racial bigotry that we still have in 2019. The mirroring factors of wanting to rid a country of people of colour or different Nationality. It moved me to tears and I was rather overcome with anger and emotion.
Small Island is so very important for us all to see as it speaks to us all now in present day.
A deeply fragile and moving must see production.
National Theatre Live
National Theatre Live brings the best of British theatre to cinema screens all over the UK and around the world.
More NTL Live – coming soon to Capital Theatres
Screening: The Lehman Trilogy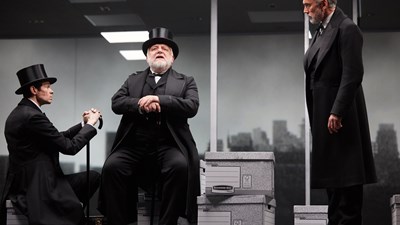 THU 25 JUL 2019
Evening 7pm
Running time (approx.): 3 hours 20 minutes (including 2 intervals)
Age: 12A
FESTIVAL THEATRE
BOX OFFICE: 0131 529 6000
Screening: One Man Two Guvnors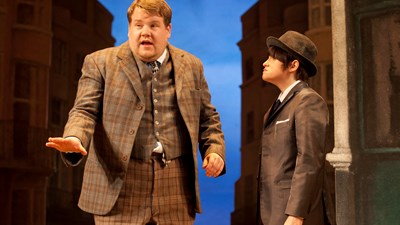 WED 02 OCT 2019
Evening 7pm
Running time (approx.): 3 hours 30 minutes
Age: 12A
FESTIVAL THEATRE
BOX OFFICE: 0131 529 6000