Today I share with you my review of The Forgotten Village by Lorna Cook. A stunning debut out now in the usual formats. Published by Avon Books.
The Forgotten Village by Lorna Cook
A timeless story of love and sacrifice, perfect for fans of Rachel Hore, Tracy Rees and Kate Morton.
1943: The world is at war, and the villagers of Tyneham are being asked to make one more sacrifice: to give their homes over to the British army. But on the eve of their departure, a terrible act will cause three of them to disappear forever.

2017: Melissa had hoped a break on the coast of Dorset would rekindle her stagnant relationship, but despite the idyllic scenery, it's pushing her and Liam to the brink. When Melissa discovers a strange photograph of a woman who once lived in the forgotten local village of Tyneham, she becomes determined to find out more about her story. But Tyneham hides a terrible secret, and Melissa's search for the truth will change her life in ways she never imagined possible.
Review by Kelly Lacey
This beautiful debut caught my attention and held on for the duration of the book. A moving reading adventure with these memorable characters. I love when I learn from the stories that I read and The Forgotten Village was jam packed with history and information that is truly heartbreaking and fascinating.
In the book we meet Melanie in 2017 as she holiday's with her boyfriend. As he goes off to surf she is bored and decides to go for a drive. On her travels she comes across Tyneham Village. That in turn starts our adventure as the reader, we go with Melanie and see the ghost village through her eyes. The army took over the village in 1943 and everyone had to be relocated. As she wanders through into the gallery one photograph in the starts to play on her mind even after she's left the village it haunts her. What was wrong with the lady in the photo?
Then we flip to 1943 and we meet Lady Veronica and Sir Albert as they prepare to leave the big house. What secrets does the house hold? Is all as it seems?
I love a flip flop book and learning things in both time periods. It's like a jigsaw when all the parts come together for that uh huh moment. This book was jammed packed with history about the relocation and it was extremely clever of Lorna Cook to merge the two time periods.
I read the book in one sitting, it was addictive. I highly recommend the book and I will be adding Lorna Cook to my must by authors. Five stars!
A stunning debut by Lorna Cook, bringing to life the past and mixing it with the present so beautifully.
Thank you for Sabah Khan and Avon Books for my gifted copy. My review is honest and in my own words. I am very grateful for the reading opportunity.
Some photos from the real village courtesy of the BBC website.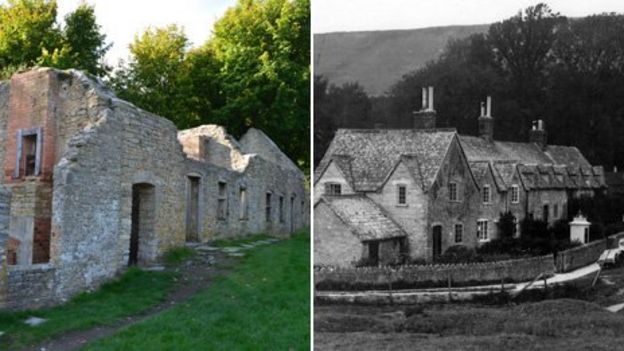 Read the full BBC article here:
https://www.bbc.co.uk/news/uk-england-dorset-24205695
Amazon Link
Follow the Tour
In the name of full transparency, please be aware that this blog
contains affiliate links and any purchases made through such links will result in a small commission for us (at no extra cost for you).