Today on Love Books Group the author of Saturday Girls, Elizabeth Woodcraft stops by for a cuppa and a chat. Bonnier Zaffre published the book earlier this year. Keep reading as Elizabeth has a question for you.
Thanks for stopping by.
Kelly
♥ Blurb ♥
Perfect for fans of Daisy Styles and Rosie Clarke. If you loved An Education, Good Girls Revolt and Made in Dagenham then this is for you.

It's 1964. England has shaken off its post-war gloom and the world is full of possibilities.
Best friends Sandra and Linda live on a housing estate in Essex. They are aspiring mods: they have the music, the coffee bar and Ready Steady Go! on a Friday night.
Having landed their first jobs, Linda and Sandra look set. But the world is changing rapidly, and both girls have difficult choices to make. As Sandra blindly pursues a proposal, Linda finds herself drawn to causes she knows are worth fighting for.
But when Sandra's quest leads her to local bad boy Danny, she lands both her and Linda in more trouble than they bargained for . . .
A book to read in great gulps Author: Sheila Newberry

Beautifully written . . . Elizabeth Woodcraft has a real talent for teasing out all the uncertainties, anxieties and fierce loyalties Author: Mary Gibson

I really enjoyed being whisked back to suburban Essex in the 1960s in The Saturday Girls and I am sure that the author has more stories of this fascinating time to share Source: Jaffa Reads Too

It's a nice story of self discovery and development…I like that not everything is perfect and the idea of a perfect relationship isn't forced upon you. It's much more relatable Source: Loubeelou Blogs
480 pages
Saga
Romance
Fiction
♥ Author ♥
Elizabeth Woodcraft grew up on a working-class housing estate in Essex. She was a mod and worked in the local milk bar. She became a barrister, practising from the chambers of Michael Mansfield QC, representing Greenham Common peace campaigners, striking miners, and anti-apartheid campaigners, as well as domestic violence survivors and children who suffered abuse in and out of the home. Now she is a full-time writer. She spends time in Paris, where she writes but also drinks a lot of coffee. The rest of the time she sits in her kitchen in London drinking coffee and writing.
Her most recent books are set in the Sixties – mods and rockers, the music of Motown, milk bars and ban-the-bomb marches. With memories of the war and the effects of rationing still being felt, young people are tasting the freedom a little money can bring. The Saturday Girls (formerly Beyond the Beehive) was published in August 2018 by Bonnier Zaffre.
Talking about A Sense of Occasion, Elizabeth's collection of interlinked short stories, also set in 60s Essex, writer and social commentator Beatrix Campbell said:
'Woodcraft has a light, lovely and loving touch. Her Chelmsford stories are intense, easy, evocative of times, places and passions.'
Her crime novel Good Bad Woman (HarperCollins) the first in a series featuring barrister Frankie Richmond, was shortlisted for a CWA prize for best first crime novel and won a Lambda award in the US. A third Frankie Richmond novel – Crazy Arms – is on the way.
http://www.elizabethwoodcraft.com
Follow her on Twitter @lizwoodcraft
♥ Author Feature ♥
Where did the inspiration come from for your current book?
The inspiration for The Saturday Girls came from my own experiences of life in the Sixties, as a mod girl, because we had such fun! I kept a diary for all that time so I put it to good use in my 'research' for the book.
Do you have a special ritual that you do when you finish writing a book?
I do a lot of smiling, and usually, a glass of wine and large quantities of crisps are involved.
What has been your favourite read of 2018, so far?
The Paris Wife by Paula McLain, which tells the story of Ernest Hemingway's first wife and their life in Paris. It's a story of an interesting woman, Hadley Richardson, who finds passion and excitement in a relationship with an exciting man, when she had all but given up hope of ever having a relationship (she was 28!). She then devotes her life to being a good partner to a developing writer as he struggles to find his style and even subject matter in Paris, while socialising with all the writers and artists of the Jazz Age, meeting at Gertrude Stein's apartment. I go to Paris quite often, so it was great to read about the places they went to and then to go myself and have a coffee there! Of course, ultimately Hemingway leaves her. I think he's let off rather lightly in the book, but it's a fascinating portrait of a woman who is usually overlooked. I like that in a book.
Could you, please share with us a photograph that tells a story?
The story is a mod story. My best friend Christine and I were mods. Of course, mods had scooters. But the top mods had Minis. Christine and I went on holiday to the Isle of Wight and there we met some mods with a Mini. Result! You will also notice my driving gloves – I had no car or scooter, or even a bicycle, but I had the driving gloves. It was all about style.
If you could pick three books that have influenced your life, what would they be and why?
Voyage in the Dark by Jean Rhys
The Echoing Grove by Rosamond Lehmann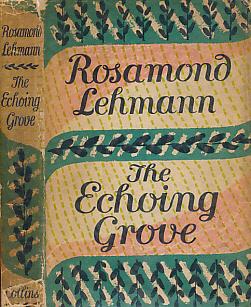 And joint third
Alberta and Joseph Cora Sandel
Bread Givers by Anzia Yezierska
All these books are about women who leave their native land, in one way or another, and abandon their expected role in life because they are searching for an intangible something that will provide them with fulfilment. I read Voyage in the Dark when I was at University, and a few years later I read The Echoing Grove. The books tell the stories of two women from very different class backgrounds who are trying to establish their way in the world – Anna in Voyage in the Dark is a dancer from the West Indies trying to make a life in England, Dinah in Echoing Grove has rejected her safe middle-class life for political involvement (it is the time of the Spanish Civil War) and dangerous liaisons. I suppose they reflected my own desire for an exciting, political life but with romance and humour. Alberta and Joseph and Bread Givers are not so different. They were part of the Seventies reprints that made Virago and the Women's Press such fabulous publishers. Alberta in Alberta and Joseph departs the long dark nights and stultifying life of a small town in Norway to find artistic freedom in Paris. In Anzia Yezierska's novel, Sara's family has escaped the pogroms of Poland and she now has to claw out a new life in America. These books also spoke to me because of language – making a life in a language which is not your first language. Eva Hoffmann's Lost in Translation deals specifically with that issue. I had lived in France and the loss of expression, smooth, thoughtful, funny language was the hardest thing for me.
And oh oh oh, Precious Bane by Mary Webb, just because it's a gorgeous love story, romance through letters to a third party!
If your book had its own theme song, what would it be?
It would have to be Green Onions by Booker T and the MGs. The Saturday Girls opens with that record – it was the coolest, hippest piece of popular music ever written and it was almost a mod anthem. But if it's music with lyrics you want, then it would be 'Hi-Heel Sneakers' by Tommy Tucker, because that was the best song to play on the juke box in the Orpheus, the local mods' coffee-bar which features in the book. It was spare, it was about style, and it was also a bit bonkers.
If your book was made into a movie who would you like to play the main characters?
My friend Christine and I have discussed this often! My characters Linda and Sandra are very, very loosely based on us at that time. Maybe Poppy Lee Friar and Fern Deacon from Ackley Bridge to play the two best friends and perhaps someone like Emma Watson to play Sylvie?
Do you have any questions for your readers?
Do you have an image of the Sixties? Has The Saturday Girls given you a slightly different perspective?
Lastly, if you could say something to your reader before they start your book what would it be?
Get ready to go back to the Sixties, when the music was great and the coffee was frothy. Bear in mind that teenagers were just beginning to gain a little independence, Women's Liberation was only a twinkle in some people's eyes, and for most working-class girls the future lay in moving out of your parents' home into the home you would share with your husband. I wonder which path you would have chosen.
Thank you so much for stopping by today, Elizabeth Woodcraft, do call again soon.
If you enjoyed the blog please leave a like and a comment. We would love it if you could share it on Twitter & Facebook. It really helps us to grow. Thanks so very much.
You can also connect with us on social media:-
Twitter
Instagram
Facebook
Disclaimer:
In the name of full transparency, please be aware that this blog
contains affiliate links and any purchases made through such links will result in a
small commission for us (at no extra cost for you).